DESCRIÇÃO
POLYTECHNIC FÓRUM

 #8
Valorization of agro industry: Research farms for R&D and internationalization
Ovibeja and Instituto Politécnico de Beja, 27th and 28th April 2017
Objective:
POLYTECHNIC FÓRUM #8 is again about all the value chain of agro industry, forests and animal production, including services to companies and the development of public policies designed to stimulate them. Its objective is to present ongoing or recent specific R&D project to develop a network of higher education schools and agro oriented properties with local and/or international relevance and to move to more integrated network of farms with experimental stations for R&D activities related to their territories.


About: POLYTECHNIC

 FÓRUM

A dynamic space for informed discussion of ideas and projects between relevant societal actors and stakeholders from the social and economic environment, public or private, with researchers, faculty and students of polytechnics to discuss issues of common interest related to the territories and to operationalize future practice and experience based R&D initiatives together with education and training to qualify the work force.

Each POLYTECHNIC FÓRUM must contribute to identify actions contributions for sectorial public policies and to answer specific needs of the regions as well as to contribute for the modernization and valorization of polytechnic institutions, including new education offers and partnerships for the knowledge based on experience and practice.


Organization:
POLYTECHNIC FÓRUM is promoted by CCISP, the coordinating committee for public polytechnics, in close cooperation with the Program for modernization and valorization of polytechnic higher education, promoted by MCTES, the Minister of Science, Technology and Higher Education in order to potentiate and strengthen the initiative Cities and regions with knowledge.
This 8th edition of POLYTECHNIC FÓRUM is organized with the Polytechnic of Beja and ACOS, the promoter of 34th edition of Ovibeja (www.ovibeja.pt) and also with INIAV (www.iniav.pt), the national research institute for agrarian and vet research (Ministry of Agriculture) and the portuguese network of polytechnic agrarian schools. This edition of the POLYTECHNIC FÓRUM is integrated in the opening activities of 34th Ovibeja.
Video streaming
Sessions can followed by video streaming through YouTube.
To follow the meeting, go to http://ustream.tv/channel/23171713
PROGRAM


DAY 1, Thursday, 27th April 2017


14:00 I Concentration in the parking lot of IP Beja.
Bus will be available towards meeting room in ACOS Associação de Agricultores do Sul, next to Ovibeja.
See map with the right entrance in Ovibeja for the meeting, at the end of this program.

14:15 | Check in
14:30 | Opening
President of Instituto Politécnico de Beja | Vito Carioca (video)
President of CCISP | Nuno Mangas 
President of Agrarian Commission (CCISP) I Jorge Justino (video)
President of INIAV Instituto Nacional de Investigação Agrária e Veterinária I Nuno Canada (video)


Session 1: Fostering the potential of the experimental farms network
Moderator: Eduardo Beira (video)
15:00| Presentation #1: Nuno Canada (INIAV) (video)
The potential of the network - introduction to cases of product development by the national network of experimental farms
15:10 | Presentation #2: Ondina Afonso (Clube de Produtores CONTINENTE) (video)
"Bread with cereals, from Alentejo"
15:20 | Presentation #3: António Madaleno (Cotarroz)(video)
New portugueses varieties of rice
15:30 ! Comment #1: Polytechnic of Beja (video)
15:40 | Presentation #4: João Paulo Crespo (Fertiprado) (
)
Improved forages and pastures
15:50 | Presentation #5 Daniel Murta (Entovalor) (video)
Circular economy: insect production for feed
16:05 ! Comment #2: Polytechnic of Portalegre (video)
16:15 | Coffee break
16:30 ! Book launch: Bio-regiões, valorização agro-industrial e produção animal with materials and contents of FÓRUM POLITÉCNICO #1 (33rd Ovibeja)
Eduardo Beira, Programa de Modernização e Valorização do Ensino Politécnico
Maria Margarida Pereira, Escola Superior Agrária do Instituto Politécnico de Beja


Session 2: Green and circular economy: new challenges to agrarian schools
Moderator: Eduardo Beira
16:45 | Presentation #6: Wil Bekkering (Aeres Hogeschool, Netherlands) (video)
Meaningful higher agricultural education: the triple challenge
16:55 I Comment #3: Albino Bento, Polytechnic of Bragança
17:05 | Presentation #7: Markku Paananen (Institute of Bioeconomy, JAMK, Finland) (video)
Institute of Bioeconomy as a business generator
17:15 I Comment #4: José Carlos Santos, Polytechnic of Viana do Castelo (video)
17:25 |Presentation #8: Lucas Luisoni, (HES-SO – Hepia, Haute écoles du paysage, d'ingénierie et d'architecture de Genève) (video)
title to be defined
17:35 | Discussion
18:00 | Closing session
President of Agência Nacional de Inovação | José Carlos Caldeira (video)

Secretary of State of Science, Technology and Higher Education, Fernanda Rollo (video)
18:15 End of day 1


= = =


DAY 2, Friday, 28th April 2017


Session 3:

 International cooperation

10:00 | Opening

President of ACOS | Rui Garrido (5 min) (video)

President of Instituto Politécnico de Beja | Vito Carioca (5 min) (video)

10:10 | The challenges and opportunities for the new polytechnic newtork of experimental farms

Ana Paula Vale, vice president of CCISP agrarian commission (10 min) (video)

10:20 | PRIMA, Research and innovation in the Mediterranian area: introduction to a new EU initiative

Angelo Riccaboni, coordinator of PRIMA initiative (15 min) (video)

(https://ec.europa.eu/research/environment/index.cfm?pg=prima; http://europa.eu/rapid/press-release_MEMO-16-3472_en.htm )

10:35 |

European Commissioner for Research, Science and Innovation | Carlos Moedas (video)

Ministry of Agriculture | Capoula Santos (video)

Minister of Science, Technology and Higher Education | Manuel Heitor (video)




11:00 | Coffe break


Session 4: R&D cooperation around Mediterranean
11:15 I João Lima (INIAV) (moderator) (video)
Projects and Partnerships around Mediterranean Sea
11:25 I Comment #5: Polytechnic of Castelo Branco (video)
11:35 I Faculty of Veterinary Medicine, Benha University, Egipt (video)
Wareth Gamal, Brucelosis in the Mediterranean basin
11:45 I Comment #6: Polytechnic of Santarém (video)
11:55 I ARVALIS, Institut du végétal (Paris, France) (video)
Stephane Jezequel, Adaptation to the climate changes in the mediterranean area
12:05 I Comment #7: Polytechnic of Viseu (video)
12:15 I Biotechnology Center of Borj cédria (CBBC) (Tunisia) (video)
Ksouri Riadh, Utilization of Mediterranean PAMs as valuable source of "GRAS" products for industries.
12:25 I Comment #8: Polytechnic of Coimbra (video)
12:35 I Discussion
13:15 | Closing


13:30 | Lunch (courtesy of ACOS, Ovibeja and Polytechnic of Beja)


15:00 I Visit to 34th Ovibeja, including joint fields of essays by ACOS and IPBeja


ENTRANCE IN OVIBEJA FOR THE MEETING
Please use the entrance in Rua Cidade De São Paulo to enter Ovibeja for the meeting.
See ACOS office pin in the map.
Meeting Room is in ACOS office. immediately after the entrance, building at the left.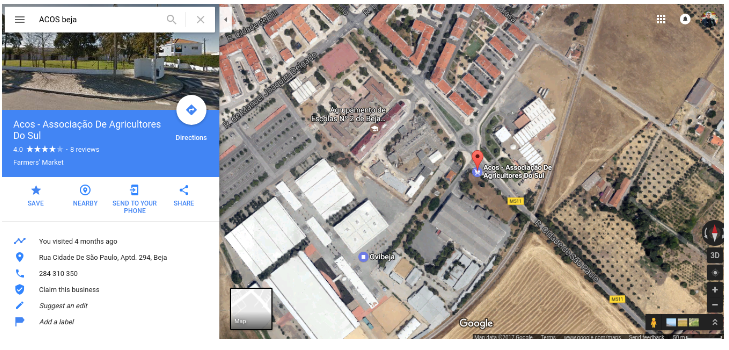 Supported by: